Katherine Hayes
Scottsdale Master Stylist Specializing In Fine and Thinning Hair
After 30 years in this beautiful industry, I have honed my craft and use my mastery of hair to help you achieve your hair goals. I am highly trained in precision haircuts, color and highlights, updos, and hair extensions.
My own hair has always been fine and as I have aged, it is now thinning as well. So, as a means of self preservation and with a deep personal understanding of fine and thinning hair I specialize in analyzing the uniqueness of each client's challenges. I analyze causes and create solutions to help your fine hair look and feel thicker, denser, and more voluminous.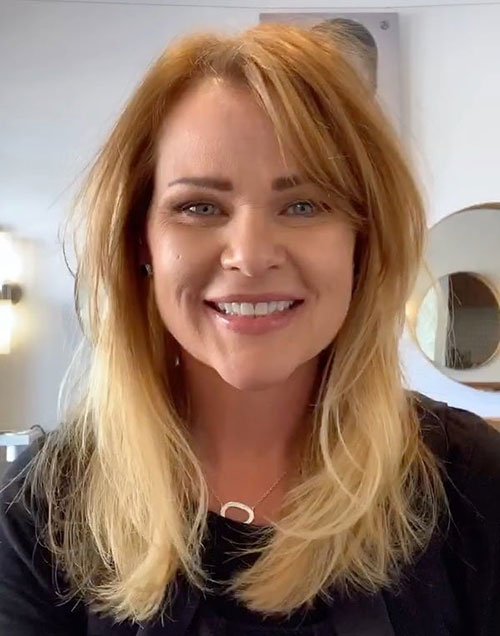 My passion, specialty, and experience is helping my clients with fine and thinning hair feel confident and beautiful!
Educating My Clients
Tackling thinning and fine hair is all about the details. I work closely with my clients in choosing the best haircut, color and highlighting services to maximize thickness, density, and volume.
I will teach you how to style your hair and what products to use. We may talk about face shape, current hair condition, vitamins, procedures, lifestyle, hair pieces, and anything else that I think could help you achieve your hair goals.
NEW! Thin Hair Bible
The Ultimate FREE Guide For Fine, Thin & Thinning Hair
I am so excited to announce the completion of my new book on fine, thin and thinning hair! This free guide will help you identify your hair type, what products and tools are best for your hair, tips for communicating with your stylist, things to avoid if you have fine hair – and MUCH, MUCH more!
Katherine Hayes Education + Experience
Jose' Eber, Dallas, Texas: I started my career with high ambition. Just out of beauty school, I auditioned and got my dream start working for Jose' Eber. I apprenticed under the co-owner with Jose' and directly worked for Jose' on his monthly makeover events. I mastered every aspect of the salon experience: answered phones, booked appointments, swept floors, learned shampoo perfection, learned the art of consultation, haircutting, managed schedules, and took ongoing education classes. This start helped me learn what an exclusive salon experience is, and what it takes to be successful as a master stylist. After 30 years I continue to use the lessons from my start with Jose' Eber.
Frederic Fekkai, Beverly Hills, CA: I apprenticed under the head of the color department where I was able to hone my color, highlighting and Balayage techniques. Another aspect of this experience was the celebrity clientele. I worked on many celebrities and learned how to manage a very high demand, high end clientele. This has served me well because I treat all my clients like celebrities.
Paul Garcia's of Denver & Aspen, CO: As a new working stylist and fresh off my stint in Beverly Hills, I landed a job at the best salon in Cherry Creek (Denver). I trained extensively with Toni&Guy as well as American Crew. I eventually moved to Aspen to work in Paul's second location located inside the Ritz Carlton. Here, I took my customer service to the next level working with celebrity clientele.
Rolf's Salon – Scottsdale, AZ: Here in the Valley, I began my journey with Rolf's Salon. This is where it all came together for me and I became the Artistic Director of the Scottsdale location. My responsibilities included live television makeovers on Channel 3 and MTV. I created, directed and participated in numerous fashion shows all over the valley including Scottsdale Fashion Week, Neiman Marus, Saks Fifth Ave and many many more. As part of the education team, I taught Toni&Guy hair cutting methods and attended "Teacher Training" where we created a haircutting curriculum and manual for our entire education team. I attended international training and education seminars with the mission of returning to educate the rest of our team. At Rolf's, I developed an in-house education model that encompassed all the latest trends in hair, fashion and music – all using live models on a stage. And, finally, I was a part of creating our Seasonal Collection where we would perform photo shoots with the latest makeup, hair and fashion trends for our advertising efforts. While working with Rolf's I was able to attend much education including Loreal Professional, Goldwell, Redken, Toni&Guy, Great Lengths, Juan Juan Salon of Beverly Hills, International Beauty Show in Italy, Jacques Salon of Paris as well as many others.
Sachi Salon- Scottsdale, AZ: After working and training with the absolute best and being a person who needs to evolve, it is only natural that I would want to take my career to the next level.
I got my cosmetology license in 1990 at just 18 years old. I've trained with the absolute best in this industry and have accomplished many wonderful goals. After 30 years, I have seen many trends come and go but my concept is simple: Classic is always in style. Starting with classic as a backdrop I then make it edgy. How edgy? Great question! I will always lean towards the current trends but, how edgy I will go really depends on the comfort level, personality and preference of my clients.