Hair Services & Online Appointments
Thank you for your interest in Katherine Hayes Hair! As a leading Scottsdale Master Stylist, I work closely with you to choose the best haircut, color and highlighting services to maximize the thickness, density, and volume of your hair.
BLOWOUTS & SPECIAL OCCASION
Beautiful blowouts, Updos, and Bridal
HAIRCUTS
Customized haircuts tailored to your hair, personal style, and preferences
CONDITIONING TREATMENT
Designed to restore repair, softness and/or thickening
COLOR
Customized color to cover grey, lighten, darken, or change existing tone
BALAYAGE & HIGHLIGHTS
Foil highlights and hand painted balayage color
COLOR CORRECTION
Corrective service to adjust unwanted color and tone
HAIR EXTENSIONS
Extensions add length, thickness, and volume
BRAZILIAN BLOWOUT
Treatment to eliminate frizz and smooth hair
Client Testimonials
I just moved here from Virginia and was looking for a stylist that specialized in fine, thinning hair. Katherine Hayes is the first person I found and I don't need to look any further. She did an amazing job giving me the right cut and color that makes my hair look and feel fuller. She took the time to talk with me about my hair type, what my goals were, and what my hair would actually do. I highly recommend her, especially if you have fine hair.

julie wilson
16:31 16 Sep 21
I have been a client of Katherine's for nearly fifteen years because she is a creative, classy and very talented stylist for my very fine hair. Her cuts ALWAYS look good, whether brand new or several weeks old; to me that is indicative of a quality haircut. She is also a very gifted hair colorist. What I like most about Katherine (as compared to other stylists I've used) is that she truly listens to my cut/color ideas and then manages to convert those ideas into reality. I highly recommend Katherine to anyone of any age who has fine hair; you won't be dissappointed!

Nancy Anderson
21:31 10 Aug 21
Katherine is remarkable. I really like the way she cuts, styles and colors my hair...I especially like the hair painting she does for highlights. I wanted to go a little lighter blonde which she accomplished perfectly. She also did a wonderful job with my cut...adding a few more layers than what I had, to give additional body and life. She gives styling and hair care education while she is providing your hair services. She's super knowledgeable and a true professional that genuinely cares and strives to give you a superior experience in her chair every time!!

Katie Clark
14:02 03 Aug 21
Katherine does a wonderful job with my fine hair. When she is done coloring and beautifully styling my hair- you can't even tell that I have fine hair. I highly recommend Katherine Hayes.

Training Nut
04:29 29 Jul 21

Charlene Morris
01:32 25 Jul 21
I've been a client of Katherine's for over 10 years and I'm treated as if it's my first visit every time. She takes the time to understand the current state of my hair, makes recommendations and always executes flawlessly. Highly recommend Katherine!

Jennifer Ringle
23:08 24 Jul 21

Sharon Woodward
23:44 23 Jul 21
I love Katherine's service. She is very knowledgeable professional and a very caring person. I've known her for over 15 years and I am happy that she is my hairstylist. I have very fine hair, she is doing amazing work with it and her recommendations regarding how to treat my hair are always very valuable.

Tanya Eldridge
18:31 23 Jul 21
I was looking for a new stylist who understood my fine, graying hair and my desire to be free of monthly trips to the salon for cut-and-color. When I found Katherine online I immediately felt excited and reassured that my search was over. Our first meeting was fabulous as we walked through what I now know is the trend called "gray blend." My hair is healthy, gorgeous and natural looking. My trips to the salon are now 7 to 8 weeks. I love my hair from the time I walk out of the salon until I return for another stellar session with Katherine!

Karol Nickell
17:53 06 Jul 21
Katherine is AMAZING! She is truly a talented Master Hairstylist / Colorist with her expertise in fine thinning hair. With an impressive background working in the top salons all over the country, Katherine brings her 5 star service right here to our Scottsdale area. I am very particular with my long hair, and always can feel confident knowing I am in the best hands with Katherine. She takes time to listen to what you want and will make valuable suggestions. Her personal salon suite is clean & safe and brings a nice relaxing atmosphere. You will get up from her chair with a smile on your face every time! I just adore Katherine and feel so lucky to have found her!

I've had such a struggle with my hair for so long and the haircut she gave me is absolutely incredibly perfect. It's like every piece was custom made for my face and it falls so nicely, I love it. Highly recommend and definitely returning.

Wild Giller
01:44 07 May 21
Katherine is the hair Dr she is amazing a true gem especially for people with fine thin hair. I have fine thin curly hair and always afraid to go to a salon because noone knows how to style or cut my hair. Not anymore Katherine change all that for me not only did she changed me not wanting to go to a salon she took the time to teach and educate me on how to style and handle my hair. She gave me suggestions and follows up with her clients. I can't wait to go back and so glad I found her😊

Katherine did a FANTASTIC job with highlighting my hair. She gave me pointers on how to prep my hair before and after so that my fine hair looks shiny and vibrant after the procedure. I just love the look and the cut. I would recommend Katherine to anyone who is looking for color, highlights, deep conditioning and cuts (that's all I've done so far - who knows what goodies I may do in the future)

Teresa Foster
22:17 23 Apr 21
Love my hair again! Katherine is terrific! Her salon is very clean, bright and comfortable. She abides completely to Covid protocols which is important to me. She's so upbeat and "you can do this" inspirational. She evaluated my hair told me what she liked about my hair-wow!- viewed with interest the sample style photos I brought said "this one!" and moved right along- she is fun and teaching the whole time- the how and whys of the style So much so that my first try at replicating her result was pretty darn good! I thought I was destined to have flat straight hair- but I love the layers my hair feels bouncy and looks full again- so happy!

Sue Marie Hauser
18:44 14 Apr 21
There isn't enough space for me to adequately recommend Katherine Hayes. Katherine has been my stylist for years, and I would not even consider going to anyone else. My hair is very fine, but one would never know that because of the incredible lowlights, highlights and haircut that Katherine does. She is always on time and gives her full attention to her client. If you're looking for the BEST stylist in the Valley, look no further. She is incredible!

Bo Whittenton
02:09 06 Apr 21
Katherine has been coloring and styling my hair for the past 20 years! She has made my hair look amazing thru all the years ... She is a master at what she does. Now that I have grey fine hair she can still make me look wonderful.

Elizabeth Donlan
21:25 08 Mar 21
Katherine Hayes is a true professional. She can handle my fine thick hair. I love her styling and cut. We have worked together for 15 years.

Nancy Froman
15:13 25 Feb 21
WOW! I thought I knew and had a 'fine hair' stylist until I was referred to Katherine. MIND BLOWN. Reasons to rave about her:1. She has fine hair too, so she really truly knows how to cut and style it!2. She listened to what I wanted, looked at pics with me, and executed it to a T.3. She also asked about how much time I'm willing to spend on my hair and if I use a hair dryer, so that she could instruct me how to replicate the style. Now if you're like me you figure that doesn't matter - you can NEVER replicate it at home, right? Not true here...4. I was able to follow her simple instructions and by golly, if my hair didn't turn out cute each and every time, whether air or blow drying!5. I am almost 5 months post hair cut and it's been growing out beautifully. I have received compliments on it time and again, the most recent today!So if you have fine hair and haven't found someone who can work wonders with it, or even if you THINK you are seeing someone who can, compare them to her - you might be surprised!

I went in for a balyage with almost no idea of what I wanted. She listened to me, gave me suggestions, and showed me great techniques. I have very fine hair, and Katherine was fantastic at making it look fuller than it's ever been. Will be going to her exclusively!

Sarah Melosh
02:19 27 Oct 20
I have been getting my hair done by the amazing Katherine for years! She is by far the most talented, artistic, caring, conscientious professional I have ever encountered. She has the artistic Flair for design with an absolute microscopic eye for detail! she is Simply Amazing and you'll walk out feeling and looking like a million! Long time client. Katherine does a fabulous job! My Work.
Real Transformations For Real People.
Katherine Hayes
Scottsdale Master Stylist with 30 years of experience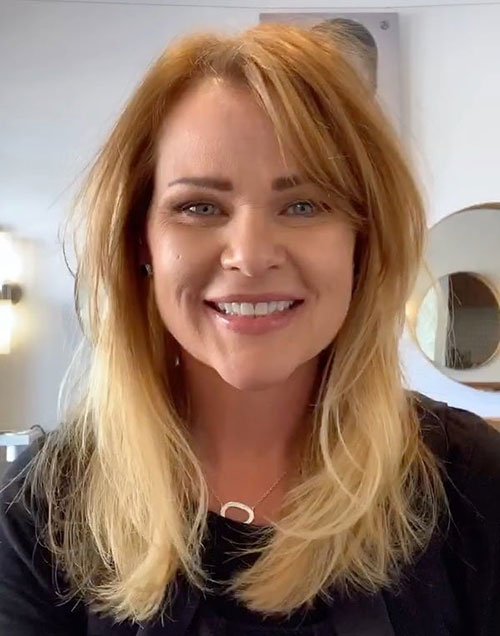 After 30 years in this beautiful industry, I have honed my craft and use my mastery of hair to help you achieve your hair goals. I am highly trained in precision haircuts, color and highlights, updos, and hair extensions.
My passion, specialty, and experience is helping my clients with fine and thinning hair feel confident and beautiful!
My own hair has always been fine and as I have aged, it is now thinning as well. So, as a means of self preservation and with a deep personal understanding of fine and thinning hair I specialize in analyzing the uniqueness of each client's challenges. I analyze causes and create solutions to help your fine hair look and feel thicker, denser, and more voluminous.