Hair Services & Online Appointments
Thank you for your interest in Katherine Hayes Hair! As a leading Scottsdale Master Stylist, I work closely with you to choose the best haircut, color and highlighting services to maximize the thickness, density, and volume of your hair.
BLOWOUTS & SPECIAL OCCASION
Beautiful blowouts, Updos, and Bridal
HAIRCUTS
Customized haircuts tailored to your hair, personal style, and preferences
CONDITIONING TREATMENT
Designed to restore repair, softness and/or thickening
COLOR
Customized color to cover grey, lighten, darken, or change existing tone
BALAYAGE & HIGHLIGHTS
Foil highlights and hand painted balayage color
COLOR CORRECTION
Corrective service to adjust unwanted color and tone
HAIR EXTENSIONS
Extensions add length, thickness, and volume
BRAZILIAN BLOWOUT
Treatment to eliminate frizz and smooth hair
Client Testimonials
There isn't enough space for me to adequately recommend Katherine Hayes. Katherine has been my stylist for years, and I would not even consider going to anyone else. My hair is very fine, but one would never know that because of the incredible lowlights, highlights and haircut that Katherine does. She is always on time and gives her full attention to her client. If you're looking for the BEST stylist in the Valley, look no further. She is incredible!

Bo Whittenton
02:09 06 Apr 21
Katherine has been coloring and styling my hair for the past 20 years! She has made my hair look amazing thru all the years ... She is a master at what she does. Now that I have grey fine hair she can still make me look wonderful.

Elizabeth Donlan
21:25 08 Mar 21
Katherine Hayes is a true professional. She can handle my fine thick hair. I love her styling and cut. We have worked together for 15 years.

Nancy Froman
15:13 25 Feb 21
WOW! I thought I knew and had a 'fine hair' stylist until I was referred to Katherine. MIND BLOWN. Reasons to rave about her:1. She has fine hair too, so she really truly knows how to cut and style it!2. She listened to what I wanted, looked at pics with me, and executed it to a T.3. She also asked about how much time I'm willing to spend on my hair and if I use a hair dryer, so that she could instruct me how to replicate the style. Now if you're like me you figure that doesn't matter - you can NEVER replicate it at home, right? Not true here...4. I was able to follow her simple instructions and by golly, if my hair didn't turn out cute each and every time, whether air or blow drying!5. I am almost 5 months post hair cut and it's been growing out beautifully. I have received compliments on it time and again, the most recent today!So if you have fine hair and haven't found someone who can work wonders with it, or even if you THINK you are seeing someone who can, compare them to her - you might be surprised!

I went in for a balyage with almost no idea of what I wanted. She listened to me, gave me suggestions, and showed me great techniques. I have very fine hair, and Katherine was fantastic at making it look fuller than it's ever been. Will be going to her exclusively!

Sarah Melosh
02:19 27 Oct 20
I have never been disappointed when she does my hair, I have actually cried b/c I never thought I could look as good as she has made me look! She doesn't just have the talent and skill but she cares and and it shows! I have been getting my hair done by the amazing Katherine for years! She is by far the most talented, artistic, caring, conscientious professional I have ever encountered. She has the artistic Flair for design with an absolute microscopic eye for detail! she is Simply Amazing and you'll walk out feeling and looking like a million! Long time client. Katherine does a fabulous job! My Work.
Real Transformations For Real People.
Katherine Hayes
Scottsdale Master Stylist with 30 years of experience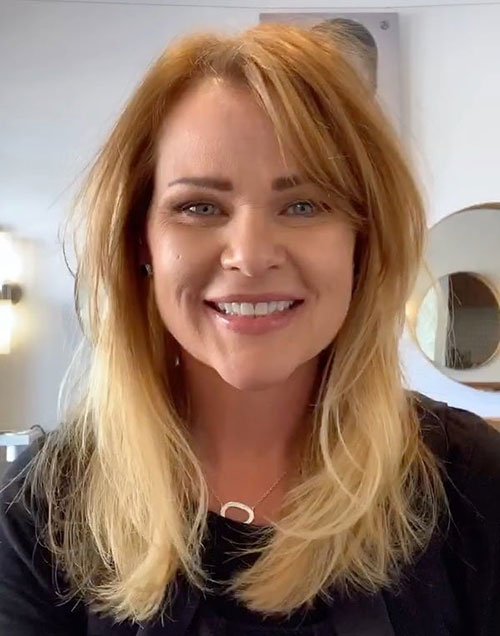 After 30 years in this beautiful industry, I have honed my craft and use my mastery of hair to help you achieve your hair goals. I am highly trained in precision haircuts, color and highlights, updos, and hair extensions.
My passion, specialty, and experience is helping my clients with fine and thinning hair feel confident and beautiful!
My own hair has always been fine and as I have aged, it is now thinning as well. So, as a means of self preservation and with a deep personal understanding of fine and thinning hair I specialize in analyzing the uniqueness of each client's challenges. I analyze causes and create solutions to help your fine hair look and feel thicker, denser, and more voluminous.