Katherine Hayes Hair Sanitization and Safety Protocols
With the current Covid-19 crisis, my thoughts go immediately to safety. As our numbers surge in Arizona, we all want to feel as safe as possible in this unpredictable time.
I felt unsafe in the large salon where I worked. There were too many people coming and going all around me. My guests felt the same and that is when I knew it was time to make a move. I have opened Katherine Hayes Hair private studio for this very reason.
Here, I can control the environment from start to finish.
Barbicide® COVID-19 Certification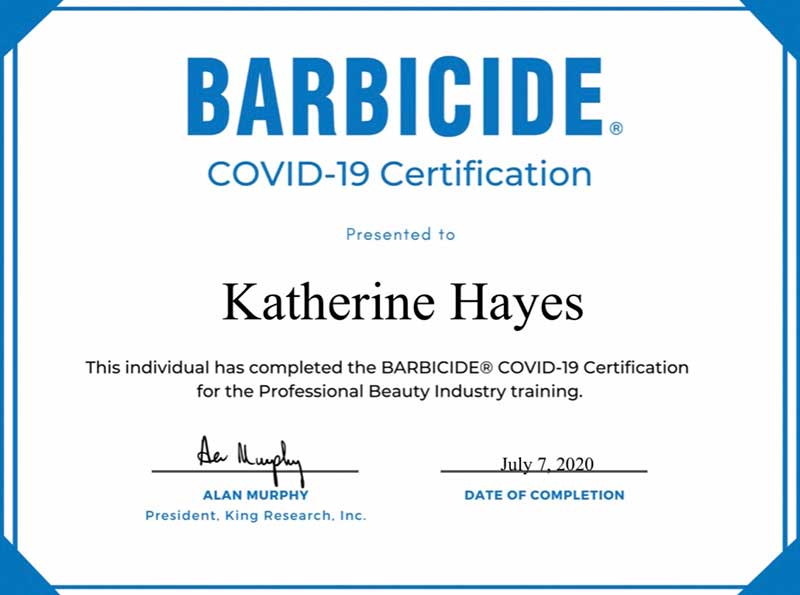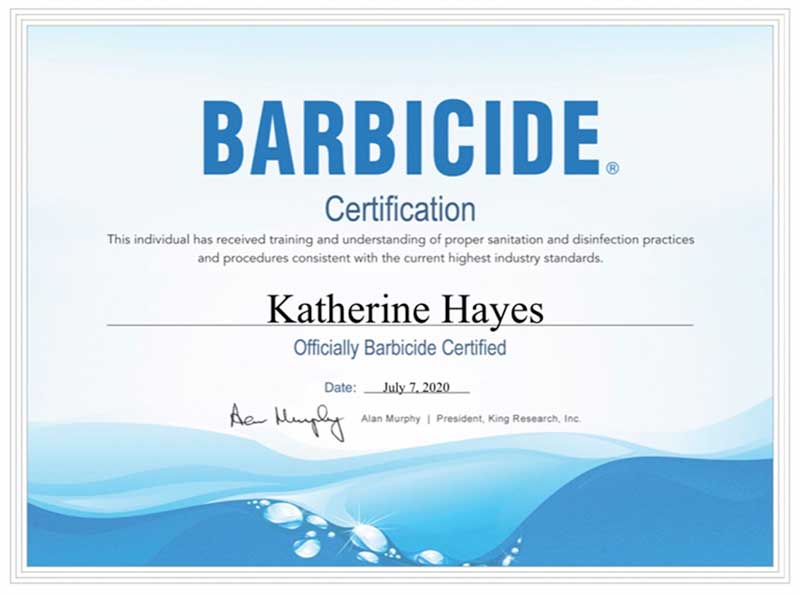 I offer my guests an oasis away from health risks posed by large, busy salons with a one-on-one exclusive suite experience.
Salon Protocol

I take the safety and the disinfection of the salon very seriously. From the moment my guests arrive they can rest assured that I go above and beyond the normal 'best practices' for cleanliness, safety and the disinfection of the salon. Upon entry, my guests will notice that I have two certifications from Barbicide, one being the normal disinfection protocol and the second being Covid-19 protocol. 

Although I can not take away all the risk, in taking these extra measures, I create a little calm in this time of crisis. I offer my guests an oasis away from the risk of a large salon experience and into a one-on-one private experience. 

What is your sanitization procedure?
All implements, tools and surfaces (including door knobs) are disinfected per Barbicide standards after each client. 
Do you allow multiple guests in the salon?
No, only one guest/client at a time and myself are permitted in the salon.
What is your mask policy?
Everyone must wear a mask to enter the building and it must remain on for the duration of the visit. 
What arrival procedures are in place for clients?
I ask for guests to wait in their car and text or call me upon arrival so that I can let them in.